Massages
Massages, packs and more.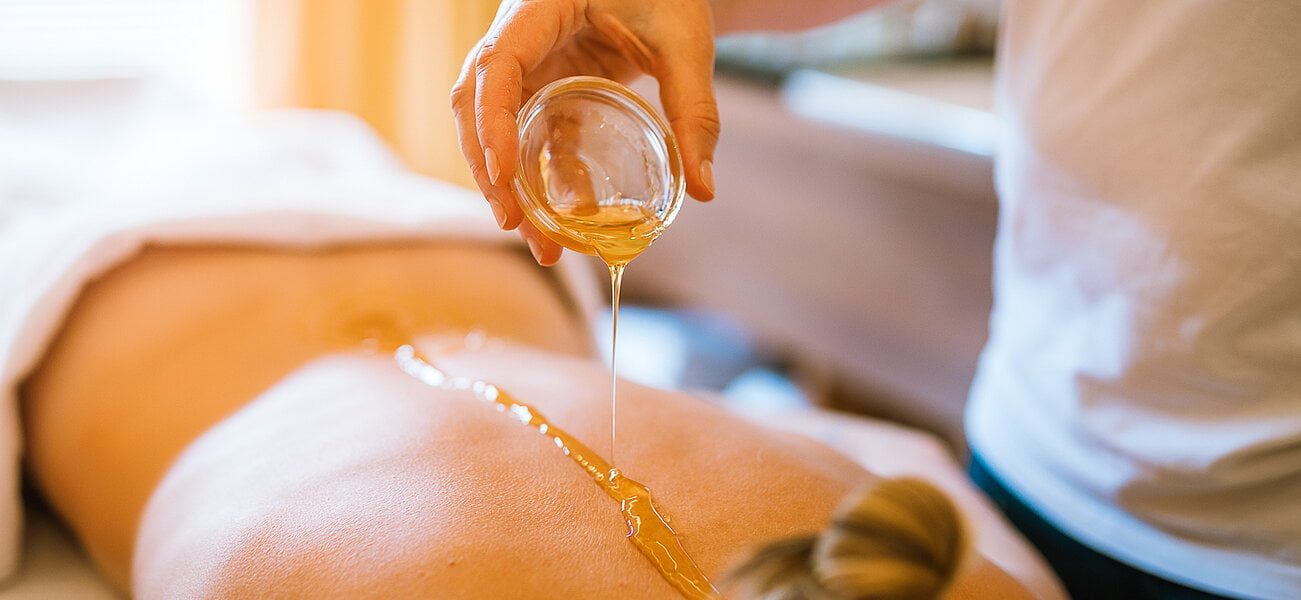 Ready for your personal salutary miracle?
Massages, packs and more.
Once upon a time there was an annoying muscle tension ... with the emphasis on "once". Because our healing masseur has magic hands and masters every massage technique.
The highest feeling of well-being is provided on our pleasantly warm Sanotherm lounger - a water bed with sound waves that harmonizes body, mind & soul. Therefore, you should definitely allow yourself a full-body pack.
Another "must" during your stay is a relaxing bathing session in our symphony-spa-bathtub. The gentle composition of underwater light, sound wave-massage and aromatic scents ensures weightless wellness delight.
As you can see: with our programme we make it very easy for you to feel good from head to toe.
Allow yourself a break and let yourself be pampered according to your needs. We are known for solving individual tensions or muscle aches and offer your a wide range of treatments:
The special grip technique of the relaxation massage relieves discomfort and stress. Lost energies, e.g. on hikes or on the slopes, will be returned.
Or you enjoy our salutory Ayurveda massage: This massage activates the self-healing powers and provide new energies by massaging the meridians.
The stone massage is a fascinating combination of a massage and the salutory effect of hot or cold stones. It harmonizes and strengthens the entire organism.
The special techniques of the sports massage relieve tensions that are often the cause of pain and dysfunction. Side effect: a stronger circulation and a higher metabolism is achieved.
Our aroma massage is a gentle and deeply relaxing massge session for body & soul.
The populair classic massage ensures relaxation and harmonization of the entire musculoskelatal systems.
Particularly popular is the coconut oil massage, for which we use cold-pressed, natural coconut oil (particularly suitable for the dry and itchy skin). This massage has a pleasantly cooling effect.
With our foot reflexology massage your organs will be better supplied with blood due to the stimulation of the reflex zones and the jammed and "blocked life energy" starts to flow again.
You should definitely relax on a heated lounger with relaxing music and candlelight once during your stay in Familotel Hopfgarten. Choose from the following possibities and enjoy this experience with:
Ayurvedic full-body peeling massage
Asian full-body peeling massage
Aromatic full-body peeling massage
Sea- or milk salt full-body peeling massage
No matter which offer you choose, our team always guarantees high-quality products and makes your visit an unforgettable experience. And not to forget: during your treatmets you can always rely on our qualified child care.