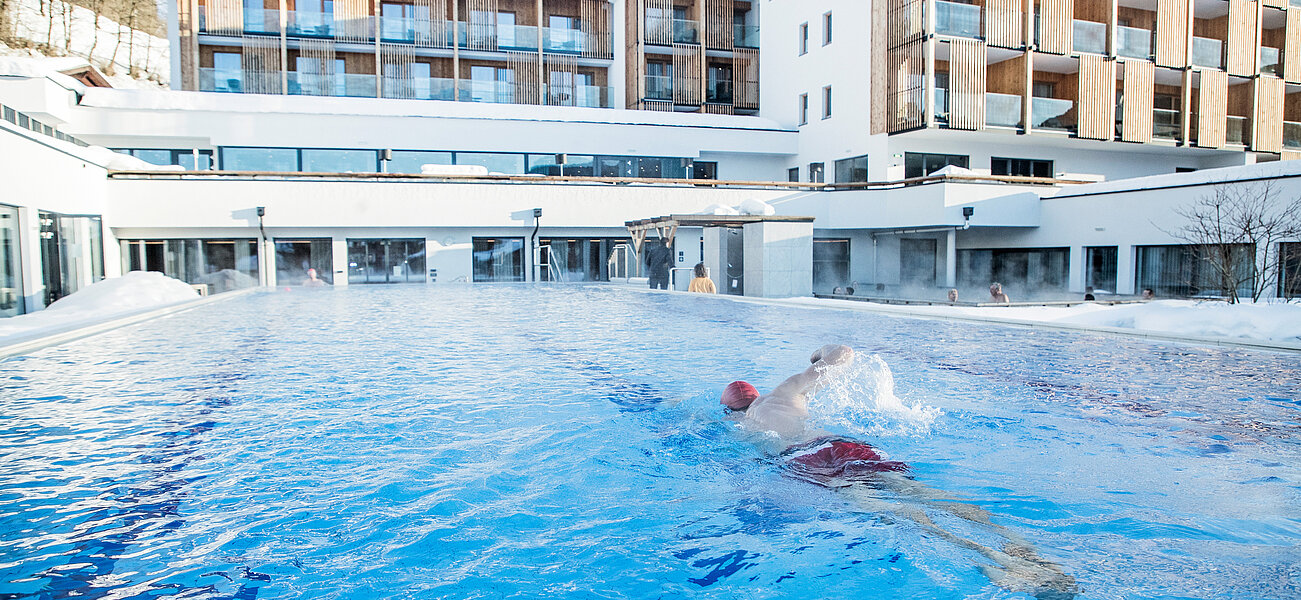 If you're looking for a Triathlon Hotel in Tirol and also want to take everything but the kitchen sink on holiday, you will appreciate our Familienhotel Das Hopfgarten. Here, triathletes can design their training programme in optimal conditions and enjoy a successful family holiday in Tirol at the same time.
Combine your preparations for the next competition with a family holiday in the Holiday Region Hohe Salve in Tirol! – At the Hopfgarten Familotel Tirol you can combine both passions with one another.
The Familotel Hopfgarten in Tirol: Perfect surroundings for triathletes
Are you a triathlete and have a family? It's not always easy to balance intensive triathlon training and family life. For training and family time to work on a family holiday, you should book our family and triathlon hotel. We offer everything that the triathlon heart desires.
Optimal training conditions for swimming, cycling & running
Balanced food for old and young
Child care for focussed training sessions
Kids triathlon routes for your little ones
Swimming training in the 25m sports pool
Swimming training is an elementary part of triathlon training. That's why triathletes can make use of the 25-metre sports pool in our sister hotel Das Hohe Salve Sportresort. Just a 4-minute walk away from our family hotel Das Hopfgarten, with a 25 m professional pool, it offers you the perfect environment for swimming training. Those would like to prepare for the next triathlon in the open water, can use the many swimming lakes around our family hotel Das Hopfgarten to do this.
Running routes around our family hotel Das Hopfgarten
Challenging altitude profile or marathon distance with flat stretches - you can make running training for your triathlon preparationsvaried and effective in the Holiday Region Hohe Salve. In doing so, you will not only obtain an excellent training effect, but you will also collect impressive natural experiences, which influence your mindset in a positive way for the next competition.
Cycling training in the Holiday Region Hohe Salve
Triathlons should not lose sight of cycling training on holiday. In the Holiday Region Hohe Salve, you can train your endurance basics in the mountains on a road bike or really set the pace a time trial bike along the Inn. Collect kilometres and metres in altitude. Those wanting more variety in their training, can also conquer the wonderful mountain bike trails in the region.
Free space for your training on the family holiday
So that there is plenty of free space for the triathlon training on your family holiday, Das Hopfgarten Familotel Tirol provides the best conditions. Our child care provides an action-packed programme for your children, while you can finish your workout in peace. Even if mum and dad would like to train for a triathlon together, you don't have to lower your sights.
Children's triathlon in the Holiday Region Hohe Salve
In our region, triathlon-loving parents can introduce their children slowly to the sport. There are several shortened children's triathlon routes in all three disciplines. This means that old and young can enjoy a sporting challenge together.
Ask us your questions: +43 5335/3920