Family cycling holidays: Biking with kids
Discover nature on two wheels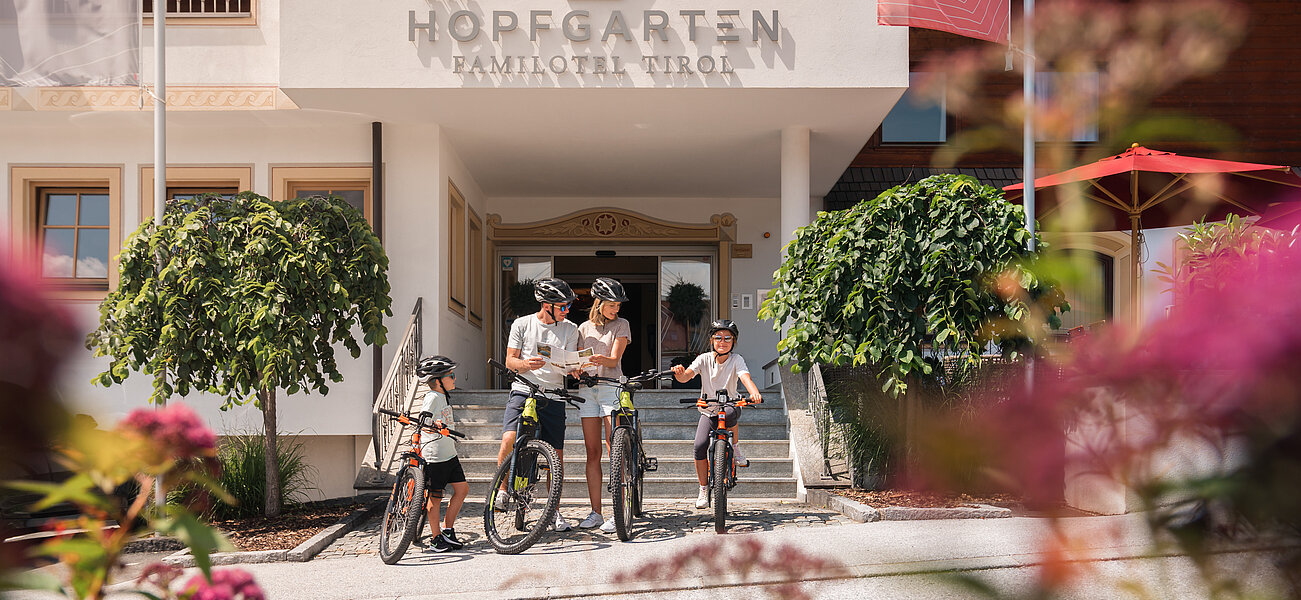 Diverse cycling tours in Tirol
Cycling holidays in Austria are popular! Our Holiday Region Hohe Salve in Tirol also delight with:
Over 1,000 km of cycling trails
Over 800km of mountain bike trails
The many different tours as well as MTB trails provide variety and enable you to discover the beauty of nature in a special way. Along the rivers. Leisurely along the Inn, from mountain inn to mountain inn or on action-packed trails - thanks to the many different cycle paths, you can enjoy your active holiday to the fullest
Our region is also ideal for cycling tours with children: From a relaxed bike tour on a flat route to a mountainous profile for active, ambitious families, there are hardly any limits to cyclists' dreams here. The Team of Das Hopfgaren Familotel Tirol will of course gladly advise you with route planning and questions about your planned cycling tour.
Ask us your questions: +43 5335/3920
E-Bike holiday in the Tyrolean Mountains
Breathtaking alpine panoramic views and rustic inns - with the E-Bike, you and your kids can conquer the mountains in the Brixental valley with the maximum fun factor! Kids in particular can easily master routes with many metres of altitude on modern e-bikes. E-bikes for children are available for hire from our partner Intersport Oberhauser. With the E-bike, you can look forward to an enjoyable cycling holiday with the kids in the Holiday Region Hohe Salve!
Send a non-binding enquiry now
E-bike & bicycle rental in Hopfgarten
At Intersport Oberhauser in Hopfgarten (at the valley station and in the village centre) our guests can not only rent high-quality E-Bikes and bikes, but also receive an exclusive 15 % discount. With professional bike fitting, the bikes are adjusted individually. The professionals of Intersport Oberhauser advise you about the optimal rental bike (E-Bikes for adults and children, MTB, kid's bikes - no bike trailers). The service guarantees our guests well-maintained, innovative bikes for the maximum safety and cycling pleasure. If you have any questions about bike hire, please contact us.
What should you consider on a cycling holiday with children?
If you are planning a bike tour or a cycling holiday with children, you should make sure you have good equipment. Do not expect top performance from your children! Plan easy cycling tours with plenty of snack stops and breaks. Travel to a holiday region with many different route profiles in order to be able to adapt to the situation of the day. Always give priority to child-friendly accommodation! - Das Hopfgarten Familotel Tirol unites all these points in the Holiday Region Hohe Salve, which is why our hotel is very popular for a cycling holiday with children.
Hop on the bike and off to the adventure!
Discover the Kitzbühel Alps during a beautiful bike tour. Whether on a leisurely family cycling tour through the beautiful valleys or on a sporty mountain bike ride in the middle of the mountains, all our guests will get theirs money's worth here.
Over 1,000 km of cycling paths and 800 km of mountain bike trails offer plenty of variety and allow you to experience the beauty of the holiday region Hohe Salve in a very special way. Along the rivers. Leisurely along the Inn, from mountain hut to mountain hut or on demanding trails, thanks to the many different kinds of cycling paths you can enjoy your active vacation day to the fullest.
Of course, you do not have to bring your own bikes to the hotel. Secure for yourself and for your family the appropriate wheels at a special price by means of advance online reservation, no matter whether road bike, mountain bike, e-bike or road bike - our cooperation partner Intersport Oberhauser has the perfect bike for young and old.
The highlight: at the Intersport Oberhauser bike rental our guests get a 15 % discount.
What are you waiting for? Book your summer holiday now and discover the Kitzühel Alps on two wheels.