Massage & More
Massages, wraps and more.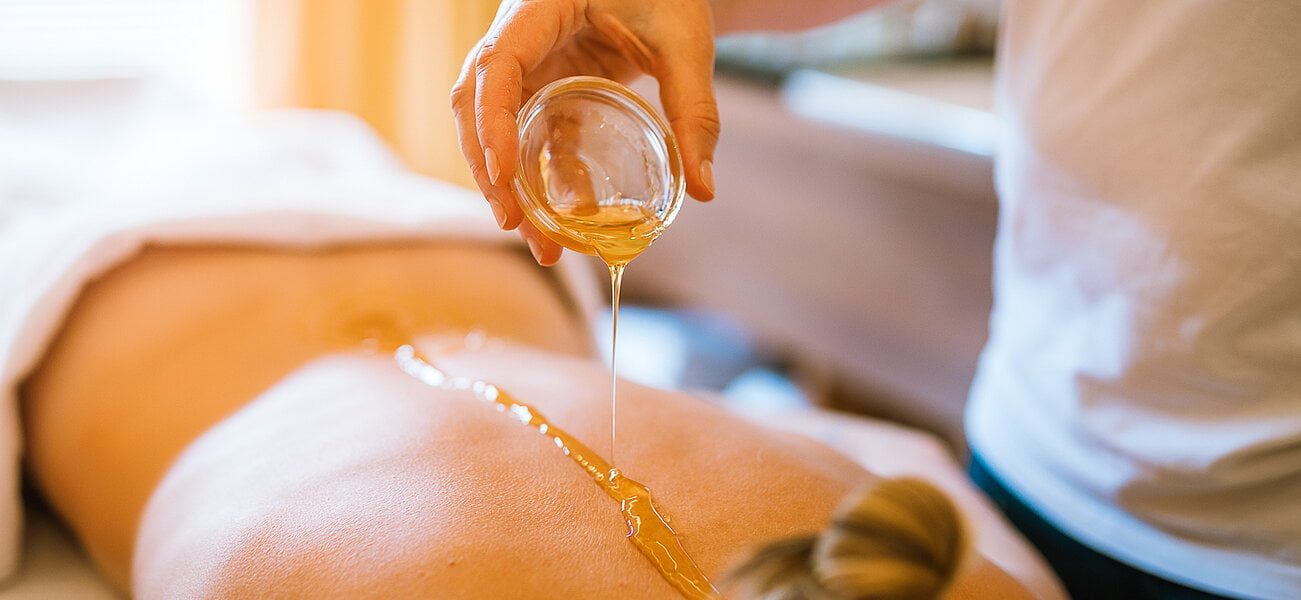 Ready for your personal feel-good miracle?
Massages, packs and more.
Once upon a time there was an annoying muscle tension ... The emphasis is on "once upon a time". Because our healing masseur has magic hands and masters every massage technique.
Maximum well-being lies in our comfortably warm Sanotherm bed - a waterbed with sound waves that harmonizes body, mind & soul. Therefore, you should definitely treat yourself to a full body wrap.
A "must" during your stay is also a relaxing bath in our Symphony Spa tub. The gentle composition of underwater light, sound wave massage and aromatic fragrances ensures weightless wellness pleasures.
You see: With our offer, we make it easy for you to feel good from head to toe.
Body treatments & wellness baths
The nourishing and natural peeling gently dissolves dead skin cells. Cell renewal and blood circulation are activated and provide a velvety skin feeling.
€ 37.00
The intensively nourishing pack with natural plant oils provides extra care and intensively moisturizes the skin.
€ 37.00
The algae pack regenerates, purifies and deacidifies the entire body. The metabolism is boosted, water retention is reduced and the skin is provided with intensive moisture.
€ 37.00
The natural moor pack has a blood circulation and metabolism stimulating effect, which in turn leads to an increase in cellular activity and a strengthening of the immune system. Due to its anti-inflammatory effect, it is the perfect treatment for muscle tension and stiffness after sports.
€ 37.00
Body scrub & body wrap (50 min)
The perfect combination for skin in need of care. The natural peeling gently removes dead skin cells. Your skin is thus perfectly prepared for intensive absorption of the active ingredients of the body wrap of your choice.
€ 69.00
In our Symphonyspa tub you can enjoy a relaxing bath by candlelight and beautiful music.
| | |
| --- | --- |
| Cleopatra bath | € 38.00 |
| Whey bath | € 38.00 |
| Hay flower bath | € 38.00 |
| Rose petal bath | € 38.00 |
Classic massage (25 min or 50 min)
Classic massage is used for relaxation, loosening and stretching of muscle tissue and additionally strengthens the muscles. It acts like a passive movement therapy. At the same time, it stimulates blood circulation in the tissues and skin, which has a positive effect on circulation and well-being.
€ 36.00 for 25 min
€ 66.00 for 50 min
Sports massage (25 min or 50 min)
The muscles and connective tissue are loosened with a slightly more intense and pressure massage technique. The blood circulation of the body is stimulated as well as the muscular regeneration is optimized. We recommend this treatment as a revitalizing treatment after an exercise session in order to be fit and vital again afterwards.
€ 38.00 for 25 min
€ 68.00 for 50 min
Hot Stone Massage (25 min or 75 min)
Vitalizes and brings body and soul back into harmony. A combination of soothing massage with high quality oil and deep effect of heated massage stones. The warmth of the basalt stones loosens deep muscles and releases tension and blockages.
€ 39.00 for 25 min
€ 95.00 for 75 min
The body is a finely tuned and cooperating unit. With this massage, regeneration impulses are set to activate the self-healing powers and release tension. This massage provides soothing relief from headaches, digestive problems and sleep disorders.
€ 36.00
Herbal stamp massage (25 min or 50 min)
Linen bags filled with herbs are passed over the tense muscles in circular and gentle tapping movements. The interplay of heat, massage and aromas releases tension and stimulates the metabolism. The detoxifying active ingredients of the herbs used penetrate deep into the skin and thus initiate the detoxification process.
€ 42.00 for 25 min
€ 76.00 for 50 min
Face-head-neck massage (25 min)
Tension is released with various massage techniques in the head and neck area. After just a short time, you will slide into a state of absolute relaxation, blockages will be released and headaches will be alleviated. Switch off and enjoy!
€ 38.00
Aroma Relax Massage (25 min or 50 min)
Aroma Relax Massage is a wellness massage designed to relax the body and mind. Through fragrant oils and sensitive massage strokes, this massage has a harmonizing effect and frees you from stress. The aim of the massage is to bring your body and mind into harmony and to revitalize it with new energy.
€ 38.00 for 25 min
€ 68.00 for 50 min
Fit combination massage (50 min)
The perfect combination of classic partial body and foot massage. Regenerative impulses are set by the foot massage to activate the self-healing powers and to release tensions. The back massage serves to relax, loosen and stretch the muscle tissue and also strengthens the muscles.
€ 68.00
Lymphatic drainage (25 min or 50 min)
Lymphatic drainage stimulates the transport of lymph in the lymphatic vessels and thus promotes the elimination of metabolic products. Gentle stroking of the skin can also relieve local lymphatic congestion, as found in chronic inflammation or after sports injuries and surgery.
€ 39.00 for 25 min
€ 69.00 for 50 min
Honey back massage (25 min)
The special plucking massage is performed with pure natural honey. The metabolism is stimulated, waste products are released from the tissue and the muscles are loosened. The honey has a moisturizing and anti-inflammatory effect and stimulates blood circulation.
€ 39.00
Already during the massage the blood circulation really gets going again. A pleasant tingling sensation spreads throughout the body and the exfoliating effect of the brushes results in intensive absorption of active ingredients for smooth, enviable skin.
€ 69.00