Autumn vacation with the family in Tyrol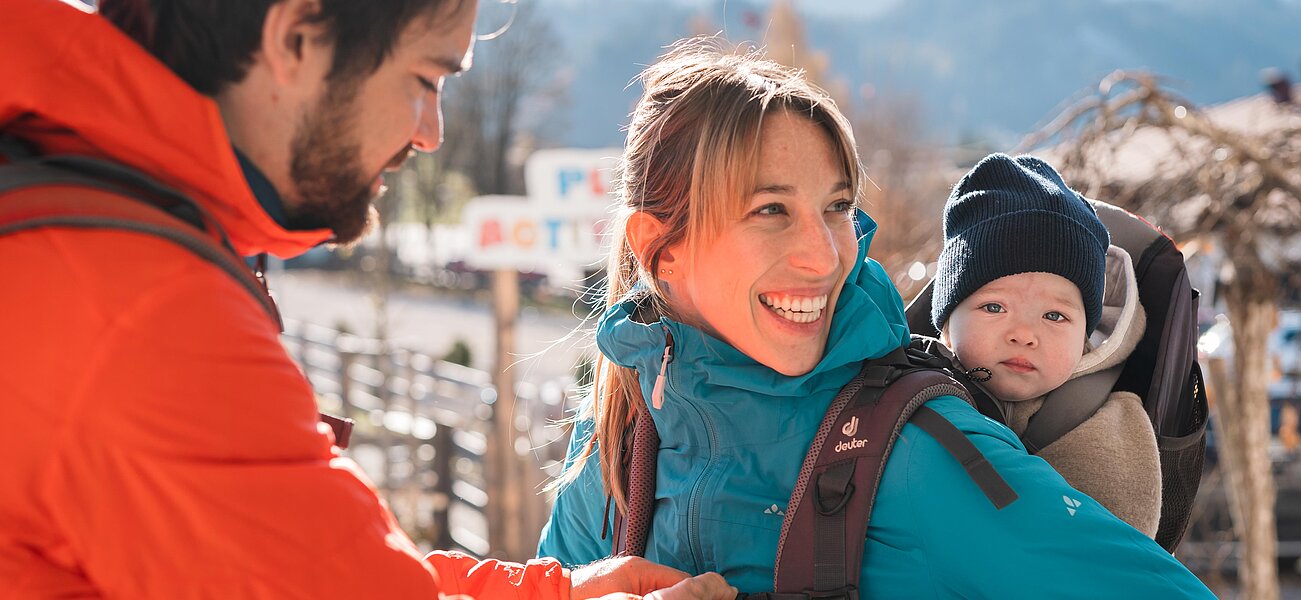 Autumnal vacation for families
Autumn in the Brixental valley exudes calm - it's the perfect time to recharge your batteries. The pleasant temperatures are well-suited to sports activities in the soft grassy mountains. Here, autumn has a special magic - purity and energy hang in the air, nature displays it's brightest colours and the sun's rays warm the hearts of old and young.
In addition to unforgettable autumnal moments, the selected autumn programme and special cable car offers, such as the FamilyAutumnWeeks of the SkiWelt Wilder Kaiser-Brixental await.
Autumn hikes in the beautiful scenery
Cycling through the colorful landscape
Unique nature experience program for children
Attractive excursion tips
The trees change colour into the most beautiful yellow, red, green and brown tones and with this provide an even more beautiful backdrop for your holiday. From the countless summits, you look down into a colourful valley. The panoramic view of Tirol and Hopfgarten is gigantic and as clear as no other season in the year.
Autumn is also a real must see in the places around Das Hopfgarten Familotel Tirol and especially warmly recommended for hikes. Speaking of warm: In Autumn, it is usually around 20 degrees during the day when the sun is shining, which is perfect for cycling tours. Hikes are also a highlight in autumn, as the surroundings are particularly colourful and put on a magnificent display.
Enquire about your autumn holiday now!
Or contact us by phone: +43 5335 3920
Picturesque autumn hikes in Hopfgarten
Pleasant temperatures, beautiful light and culinary highlights - in autumn the calm returns to the hiking villages around Hopfgarten. At the same time, nature shows its more wonderful side.
In order to extend the summer season in the Kitzbühel Alps region, there is the Brixental Autumn Hiking Week. In addition to various themed hikes, culinary delights and live music await you in our rustic mountain lodges.
Guided hikes for families or herbal hikes through the mountain landscape of the Brixental valley - rustic inns, cultural treasures and rugged and soft mountain peaks can all be discovered on an autumn hike in the most beautiful way!
A hike through the colourful autumn doesn't just open up impressive natural wonders, but also provides numerous moments of indulgence with excellent regional delicacies.
Family Cycling Holiday in Autumn
More than 500 kilometres of official bike routes can be found by guests in the region around Hopfgarten. On the easily navigable routes, families also find the perfect cycling tour. Discover autumn in Tirol on a cycling holiday with children!
Bad weather tips for your autumn holiday
At Das Hopfgarten Familotel Tirol, we have specialised in delighting children and their parents: This is not only possible in the beautiful nature. Should autumn also display its rainy and stormy side, we have excellent bad weather tips in our hotel and throughout the whole Holiday Region Hohe Salve:
90 m² Indoor Play Area
An active, varied children's programme
Move & Relax Area
Indoor Pool
and much more
This guarantees that you won't get bored even on rainy days!
Autumnal excursions in the Brixental Valley
A hiking holiday in the Brixental Valley slows down and lets you forget everyday life and the stress associated with it for a while. In the golden Autumn they say: up to the mountains and enjoy the panoramic view. There is no better season for the almost endless view.
During this beautiful season in the mountains, children and teens discover how cool hiking can be in the Brixental Valley. For example, you can go on foot or by cable car to the award-winning children's paradise Hexenwasser on the Hohe Salve: Enormous natural chimes, a stone mill or the cauldron delight both children and parents.
Alpine Cattle Drive (Festival) - An exciting highlight for the whole family!
The Alpine Cattle Drive is the conclusion of the alpine summer for a farm and their animals. In Tirol, this is taken as an opportunity to celebrate a festival with lots of traditions. Here, locals and guests come together in a wonderful way.
The Alpine cows are colourfully decorated and are herded through the village with a loud bell. The atmosphere that captures all visitors at this event is probably unique. But that is not all. During the alpine cattle drive in Kössen - not far from Das Hopfgarten Familotel Tirol - there are even more highlights awaiting our autumn guests:
Folk dancing groups
Popular music & bands
Tyrolean specialities and home-cooked food
The Alpine Cattle Drive is a typical Tyrolean festival and a rural tradition. As in other places in Tyrol, locals and guests in Kössen are thrilled year after year by the atmosphere at the so-called "Kaiserwinkl-Almhoamfahr'n".
Discover the festival of the municipality of Kössen
The Kössen Parish Park playground is transformed into a regional wonderland in autumn. Culinary treasures from the region are served up at the Harvest Festival.
Families from the region as well as holiday guests meet here to experience fun and games. Culinary delicacies from the Kaiserwinkl region are on offer at small stands. Traditional craftsmanship and lots of toy stands cast a spell over young and old alike.
Autumn in Hopfgarten presents a variety of exciting offers that are just waiting to be discovered by our guests!