Sustainable family vacation in Tyrol | The Hopfgarten Familotel
Sustainable family vacation in Hopfgarten, Tyrol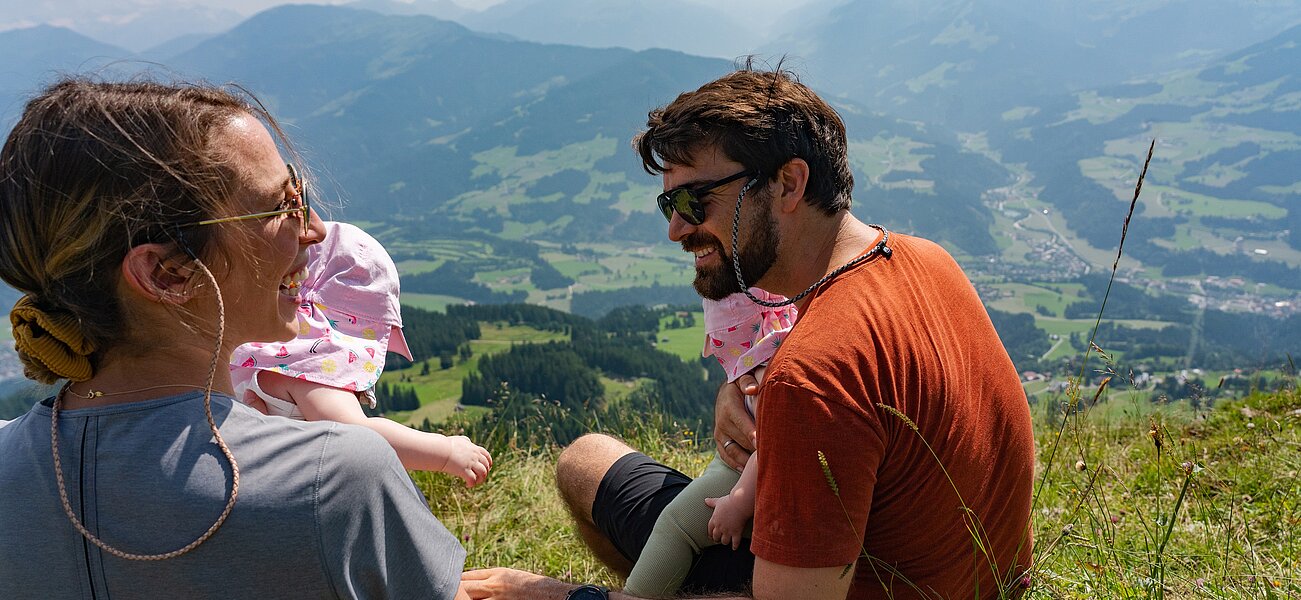 More and more families are trying to live their lives in a sustainable and environmentally conscious way. The Hopfgarten Familotel in Tyrol shows how this also works for your vacation.
Here we try everything to offer the best possible service to the guests of our family hotel - and at the same time to reduce possible negative consequences for the environment. Environmental protection and our ecological footprint are therefore of particular concern to us. Whether it's CO2-neutral heating without fossil fuels, waste separation or our diverse range of regional foods - we are committed to the topic of sustainability or environmental protection in both large and small ways.
More and more families are finding that trips planned in an environmentally and socially responsible way can have added value for the whole family.
At Das Hopfgarten Familotel, however, sustainable family vacations by no means mean that our guests have to forgo the usual vacation fun: During a nature-oriented vacation in beautiful Hopfgarten, you can expect a variety of varied and exciting activities that are guaranteed to make your children shine - all surrounded by a picturesque mountain backdrop that invites you to marvel and enjoy. From an overnight stay in our perfectly equipped family apartments to unique hikes in nature reserves, extended bike tours with the e-bike or a jump into the natural swimming lake: The magnificent Brixental offers the perfect backdrop for an eco-friendly vacation with the whole family!
Travel environmentally conscious & save CO2
Whether you travel by e-car, train or bus - thanks to the excellent connections to the public transport network and the resort's own e-charging station, you can already save valuable resources during your vacation at Das Hopfgarten Familotel when you arrive. Traveling by public transport is especially interesting for families. After all, parents can sit back and relax during the train ride, play with their offspring and enjoy the view of the magnificent landscape.
In winter, our guests then have the opportunity to try skiing right outside the front door or to be taken to the surrounding valley stations by ski bus.
The role of seasonal food & resource-efficient energy production
Whenever possible, we rely on regional products in all areas at our family hotel. We want to spoil both our small and large guests with fresh and seasonal food from the region - and at the same time support farmers and bakers as well as beekeepers from the region around Hopfgarten. After all, short delivery routes and specialties from the region have a particularly small ecological footprint. When selecting products for our Energy kitchen, we therefore place great value on seasonality and regionality:
90% of the food we offer at Das Hopfgarten Familotel comes from Austria.
Breakfast, salad and all homemade products we also source from the region.
Pastries, milk, meat, fruit, vegetables, eggs and many other foods also originate 100% in Austria.

The Margreiter bakery prepares the bread, rolls and pastries that you can enjoy at our breakfast buffet, for example.
Through the fruit wholesaler Maier we regularly receive fresh vegetables and the best fruits from Austria.
The organic cheese dairy Walchsee produces cheese of excellent quality and provides it to us immediately after preparation.
The regional meat comes from animals that were born, raised and also slaughtered in Austria.

To pamper the palates of our guests, we rely on natural ingredients. Convenience food, on the other hand, has no place in our hotel kitchen.
Our delicacies are gently prepared. This way we can guarantee that nutrients and valuable vitamins are preserved.
In the kitchen at Das Hopfgarten Familotel, we combine regional and high-quality ingredients with typical Austrian delicacies. In addition, we try to save water whenever possible. Because the water quality of our drinking water in Hopfgarten is very good, our guests can simply use the spring water that is available throughout the resort. By not using a minibar, we can reduce the electricity consumption of each guest.
But not only here we pay attention to the conscious use of valuable resources. We also focus on sustainability when it comes to saving or feeding back heat. For example, our pool is kept at the desired temperature using heat pump energy. The energy-saving method of heat recovery is also used for the freezing and cooling heat in the gastronomic areas.
Environmentally friendly accommodation for families & adventurers
Not only environmentally friendly travel by public transport or e-car can contribute to climate-friendly tourism. Choosing sustainable accommodation is also an important factor that influences the environmental impact of a vacation. To strengthen the local economy, it is advisable to stay in the region instead of taking a long-distance trip.
Whether it's customer service, the varied children's program or a farm day in the region - as a sustainable accommodation that is specially designed to meet the needs of families with children, we attach great importance to climate friendliness. Here, even the youngest learn about economical energy consumption, the offer of regional food from the region or environmentally friendly furniture.
Perfect for vacations with children are also our rooms and apartments at Das Hopfgarten Familotel. Here families can relax, experience nature up close and master exciting adventures together - all with a clear conscience! The location in Hopfgarten offers the advantage that peace and space in nature are guaranteed. Whether in summer, autumn vacation or skiing: Varied vacations await young and old in the beautiful Brixental.
A vacation to discover, listen & try out
Whether playing pirate in our childcare, tasting tasty delicacies from Tyrol or discovering the 7 BergErlebnisWelten - it doesn't always take cost-intensive and environmentally harmful entertainment programs to give your offspring a great vacation. Our creative and imaginative children's or youth programs at Das Hopfgarten Familotel encourage the imagination of your little ones and guarantee fun. In addition to excitement and adventure, a nature educationally thought-out offer can bring children closer to the environment, awaken their childlike curiosity and show them what interesting things there are to discover in Tyrol.
Why sustainability & adventure simply belong together
Older kids or teens like it more active and challenging. They can let off steam on a challenging bike tour, a tennis match or a trip to one of the local outdoor pools. So a great, exciting or even relaxing vacation and sustainability are not mutually exclusive.
The youngsters bring body and mind in harmony - electronic devices such as the smartphone or tablet are quickly forgotten.
In our Move & Relax area, we also ensure that you can take this balance back into your everyday life. Our trainers will provide you with exercises that you can easily do at home. Most of the exercises can therefore be done with your own body weight and without equipment. Our guests learn to perceive and strengthen their bodies better. Whether old or young - thanks to the specially tailored training, our guests can find their individual balance between exercise and regeneration!
What nature programs for children and young people are there around Hopfgarten?
Those who also pay attention to sustainability during the family vacation are exactly right at Das Hopfgarten Familotel. In addition to the possibility to rely on alternative mobility for the journey, it makes a lot of sense to stay in your own country or to travel to the neighboring country of Austria for the vacation with the family. Healthy food is provided here, as well as a wide range of nature-based activities, for example:
Hikes on nature trails
bike excursions in the region around Hopfgarten
a visit to Salvenaland or the Aurach Wildlife Park
a day on the farm
or a visit to the mountain world Kitzbüheler Alpen
Why is Das Hopfgarten Familotel a sustainable hotel?
Whether it's topics such as recycling, environmental awareness or renewable energies - sustainability and environmental awareness play a major role at our family-friendly hotel. These include:
the low energy consumption
the use of sustainable materials
the targeted recycling of waste
the offer of local food
fair treatment of our employees
and much more