Holidays with a baby in Tirol
Crawling and scrambling in!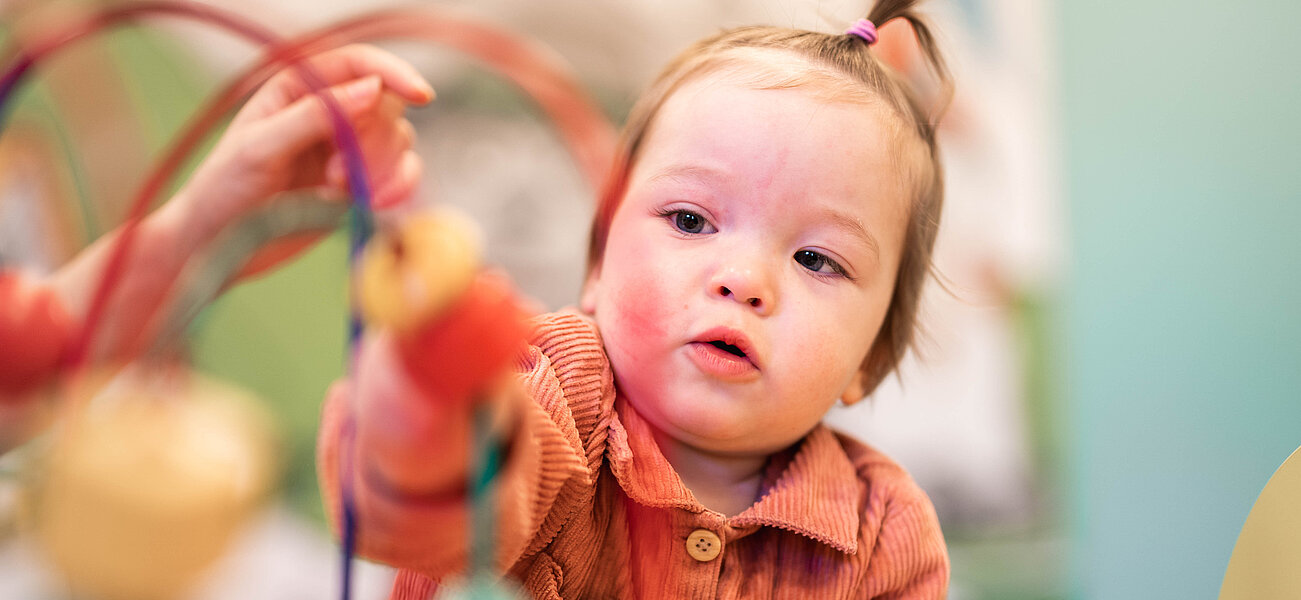 The family hotel Das Hopfgarten specialises in holidays with babies and toddlers. We asked ourselves what parents need on a baby holiday and that's exactly what our family hotel in Tyrol offers you. Plus: a large portion of warmth & security!
The Hohe Salve holiday region stands for peace, safety and breathtaking nature - the ideal ingredients for a successful holiday with babies and toddlers. Experience a wonderful first holiday with your darlings - put your trust in baby holidays in Tyrol!
Are you looking for a baby hotel in Tirol? Then you should start discovering the benefits of the Familienhotel Das Hopfgarten:
Safe arrival thanks to good infrastructure
Apartments designed for your needs with a baby
Free rental of baby equipment
Baby and toddler supervision (from 3 months old)
Indoor pool with a separate kids pool for relaxed paddling
Baby and toddler buffet
Warmth and comfort create the perfect atmosphere for a relaxed family holiday with a baby!
See for yourself and discover the perfect baby holiday here!
Qualified baby and child care
The Hopfgarten Familotel Tirol provides qualified baby and child care starting from three months old. With our childcare offer, mum and dad can take a short break. We put great emphasis on qualified care, which ensures optimal care and comfort for the little ones. - feeding, changing, sleeping - your little darlings are in the second best hands (after mum and dad) with us.
Baby and toddler supervision (from 3 months old):
Sunday to Friday from 9am to 8.30pm
Baby and toddler buffet: Stress-free and well looked after
Infants and toddlers have special needs with regard to food. So that mum and dad don't need to pack countless jars of baby food, porridge and baby food in their suitcases, high-quality products by the brands HiPP and Aptamil are available at our baby and toddler buffet.
If you have any questions about the baby food we provide, please feel free to contact us and ask us your questions.
Baby equipment for hire: More comfort, less luggage
Some Suvs and combis are bursting at the seams on a family holiday. This need not be! With our free rental service of baby equipment we save mum and dad's nerves and a lot of space in the car boot.
You can rent the following baby equipment free of charge:
Baby cot
Pushchair & Thule Buggy
Baby monitor*
Bottle warmer
Changing mat
Potties/toilet seats
Backpacks (in summer)
armbands
Baby bath
*with deposit
The perfect holiday with infants and toddlers
Das Hopfgarten Familotel Tirol provides all the conditions for a perfect holiday with infants and toddlers. With several amenities, a useful rental offer and many Baby Know-Hows, we make you and your little ones happy. We speak the family language and keep parents with children at the heart of what we do instead of expecting that they fall into a normal hotel establishment.
Summer and winter holiday with babies
The Brixental Valley is the optimal destination for a summer and winter holiday with babies. The wonderful nature can be conquered with prams in summer and winter. The pure Tyrolean mountain air guarantees rosy cheeks for old and young. In the indoor pool with separate kids pool you can introduce your little ones slowly to the element of water and splash around feeling relaxed. What's more, special events for young families are offered during all seasons - Das Hopfgarten is the address for winter and summer holidays with babies and toddlers!
Ask us your questions: +43 5335/3920
The first holiday with your baby: Tips for a successful family holiday
The first holiday with your baby is a huge adventure and for new parents is often connected with several questions about holiday planning. Das Hopfgarten Familotel Tirol has gathered the most important answers for the first holiday with your darling:
From which age can I go on holiday with a baby?
As a basic principle, a relaxed holiday is possible with a baby from 3 months on. After this time, infants and parents have become accustomed to one another and established their shared rhythm. When drinking/breast feeding is working and everyone is healthy, you can plan your first family holiday from the third month of your baby's life. In our hotel, you can check in with babies from three months of age and also use our qualified baby care.
Where should I go on holiday with a baby?
For holidays with infants, you should choose a destination with a short journey by car. That makes the journey more relaxed for parents and baby. Look for a baby hotel, which caters for your special wishes and need and choose a safe holiday country, such as Austria. Here, the infrastructure and medical care are of the highest standard. In a baby and children's hotel, no guest will look at you badly if your little sunshine cries constantly and you can take advantage of many family offers.
What should you bring with you on a holiday with a baby?
Particularly important items are the passport and vaccination pass as well as your insurance card. Don't forget personal items such as cuddly toys, favourite toys and cuddly blankets. Normal baby slings, suitable clothing for summer or winter (don't forget your swimming costume) and baby care (nappies, lotions, etc.) are part of the basic equipment. At the Hopfgarten Familotel Tirol, you can rent baby equipment (prams, buggies, cot, bottle warmers, etc.) free of charge. With this service, you can bring a lot less with you on holiday with your baby!