Holidays with children and dogs in Tyrol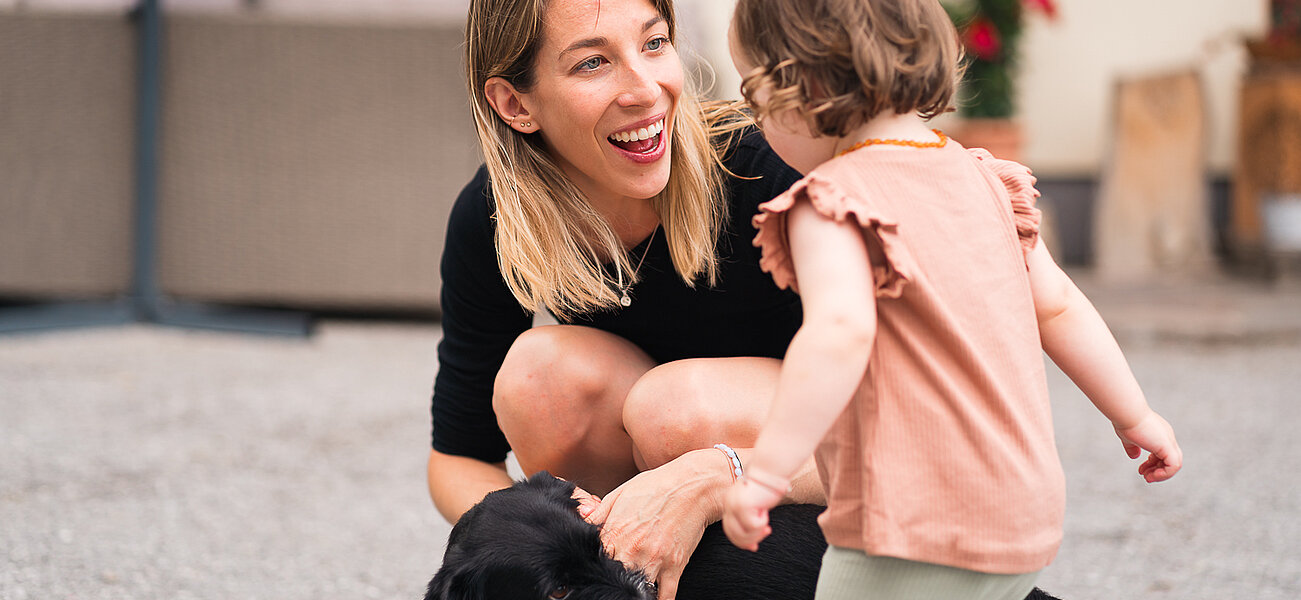 Do you wonder, whether a holiday with the children and dogs is possible? At the family hotel Das Hopfgarten we warmly welcome you, your kids and your four-legged friends! The Holiday Region Hohe Salve is a paradise for a holiday with children and dogs in the mountains.
At Das Hopfgarten Familotel Tirol, your holiday with the children and a dog becomes a wonderful experience, as our team constantly has the needs of old and young two-legged and four-legged friends in sight.
Hotel for parents, kids & fido
Das Hopfgarten Familotel Tirol guarantees a perfect holiday with the kids and dog. In our hotel, happy families are at the centre of our work and this also clearly includes your dog! We fulfil your wishes for a holiday with your four-legged friend:
Feeding bowls and dog mats are available (saving you luggage space)
Apartments without carpeted floors
Separate area, so that your dog can accompany you to the restaurant
Maps with the most beautiful dog walks in Hopfgarten
We understand that your dog is a fully-fledges member of the family. That's why they're also a fully-fledges welcome hotel guest!
Excursion destinations with the dog in the Region Hohe Salve
A holiday with your dog in Tirol is unforgettable! The many hiking and mountain tours in the holiday Region Hohe Salve invite you to enjoy family adventures together. Whether it's a relaxed day on the alpine pasture or a big mountain our - in the Brixental Valley, there's so much to discover and sniff out. Both your children and your dog will love the freedom in the unspoiled nature of Tirol! - Our reception team will gladly advise you about possible hiking routes and refreshment stops. In addition to this, our special maps with the most beautiful dog walking routes in Hopfgarten are also very popular among our guests with dogs. Basically, the Region Hohe Salve is extremely dog-friendly!
For a harmonious interaction, please observe the rules of conduct for hiking with your four-legged friend, especially on alpine pastures.
For individual questions, you can gladly contact us directly.
Our cable cars are your family and dog taxi.
If you would like to go up high together, you can also use the cable carsproblem-free with your dog. Dogs travel free of charge on the gondola lift in the Holiday Region Hohe Salve. Only a leash and muzzle are required, but that is no problem for the dog of the world. Fido also travels free of charge on our public transport here (trains are excluded). So you can also get from A to B with the children, baggage and dog in the Kitzbühel Alps feeling completely relaxed.
Bathing options for two and four-legged friends
Would you also like to swim with your dog on your summer holiday? In the public outdoor pools and on some beach areas, dogs are unfortunately not allowed in the water, but the Region Hohe Salve hasseveral swimming possibilities for your dog:
Reinthalersee in Kramsach (swimming with dogs on the western bank)
Walchsee in Kaiserwinkl (with extra dog beach on the eastern bank)
Achensee in Jenbach (dogs can paddle anywhere apart from the beach bathing area)
Waldbad Gieringer Weiher in Reith bei Kitzbühel (own dog beach available)
The Tyrolean lakes stand for excellent water quality and swimming fun in untouched natural landscapes. Here, all family members are guaranteed to get their fill! - Our team will be happy to answer any individual questions you may have about swimming with your dog at +43 5335/3920.
Holidays with dogs - What to keep in mind?
If you'd like to go on holiday with the kids and a dog, you should be aware of these tips: Don't forget your pet's passport and any vaccinations your dog may need. Don't forget to pack enough food and any medication for your four-legged friends. When travelling with kids and dogs, you should always give yourself plenty of time and plan in a sufficient number of breaks along the journey. When travelling by car, never forget to take enough water for people and animals with you. If you get stuck in a traffic jam, a sufficient amount of water is important not only for the children, but also for your four-legged friend. Book a dog-friendly hotel - such as Das Hopfgarten Familotel Tirol - and enquire about general practice such as compulsory leads in the holiday destination. If you follow these tips, you can look forward to a wonderful family holiday with a dog!